The ever-elusive Banksy strikes again…
But this time in the form of a dystopian theme park meant to leave you feeling confused, disgusted and depressed… all at the same time.
As I entered the glumly-decorated venue, 'Dismaland', plonked in an old, rundown Lido called The Tropicana in Weston-Super-Mare, it actually made me feel the complete opposite: I was curious, excited and intrigued, and wanted to drink in every moment. Every beautifully-painted canvas, every fly-posted wall, every gruesome, floating baby with brand-names tattooed all over it's body… yup, nothing at Banksy's Dismaland was boring or without some sort of message.
Now living in Bristol, the homeplace and often-playground of Banksy, almost everywhere you go you can spot some work of his. And because of this you get your steady stream of tourists snapping away on a daily basis, and when another new piece pops up news crews start floating about and the world goes crazy for it.
However, it is for this reason that his work can feel overly-commercialised (which isn't necessarily a bad thing- it really depends on your view), but sometimes it feels like the majority of his fans are only that because they don't really know any other artists, or because it's 'cool' to like Banksy. It's almost like the default-setting for appreciating street art. And I've spoken to a lot of Bristolians who feel the same.
But regardless of whether you think he's a huge sell-out or a creative genius, you have to admire what he's created with Dismaland. The sheer effort that must have gone into this project is astounding.
Everything in it is designed to be part of the park. Even in the main exhibition room a hard knock on the concrete walls separating the various exhibitions returns a hollow sound – someone has built these huge brick walls to look like they were part of the run-down building. Attention to detail or what!
And the artists featured in the exhibition room were just phenomenal; many people have said to me that the exhibition room with the paintings and sculptures by not only Banksy but various other artists aswell (including Damien Hirst) was actually their favourite part. From elaborate, intriguing sculptures (including an old car with a crocheted bonnet and a huge mushroom cloud made of cotton wool), to huge painted canvases with abstract splashes of texture and colour intermingled with Disney imagery, the exhibition room gives glimpses into the world and perspectives of many artists who revel in adding the absurd to the normal, or making something so weird or out-there that you have to stand there for a while to decipher what exactly is going on.
One of the great things I found about wading through Dismaland was that it made me realise exactly how much Banksy and I have in common (at least politically). Running themes throughout Dismaland includ the importance of workers standing up for their rights – particularly with trade unions -, disgust at factory farming and meat consumption, the terrifying appointment of David Cameron as leader of this country, the enduring hopelessness of refugees' plight, and everything that's wrong with Seaworld.
I'm not afraid to say his messages resonated with me. And perhaps that's the reason Banksy is so commercialised; his messages are base-level and pretty easy to access – even the press release describes Dismaland as 'entry-level anarchism'. It's hard for people not to identify with his points.
But actually, not everyone does. There is still mass-defiance regarding meat consumption, Seaworld still hasn't shut down, workers are still being exploited by corporations and yet the public still give these companies their money, and still so many people don't see refugees as human beings, preferring to talk about them like they are insects swarming over the land.
Perhaps he does make some damn good points, but I feel these points will be missed by so many in the novelty of the tourist attraction – I saw people literally stand in front of a painting for 3 seconds before snapping a pic on their phone and then moving on. They weren't even looking at the art. They didn't notice how the painting of the watermelon had seeds made of flies rather than actual seeds, there was a trolley half-sunk in the mud by the exit (through the gift shop) and that the people on the little floating boats were refugees (this piece was actually distressing – my friend and I were quite upset looking at it).
Overall I loved it. I love people who stand out, people unafraid to stand up for others who may not have the freedom or treatment they are entitled to, I love people who challenge the status-quo… and I love drama and theatrics! The absurdity of Dismaland is everything I love in an art-piece. Challenging, nonsensical, emotional and just plain fun.
So well done Banksy, all the crew who helped set it up, and a shout-out to the staff who are doing a great job of acting miserable as hell everyday. Or maybe they're not acting. Anyone who's worked in retail or customer service knows how much it sucks working with the general public 😉
---
HIGHLIGHTS
---
Dead Cinderella in her overturned carriage being photographed by paparazzi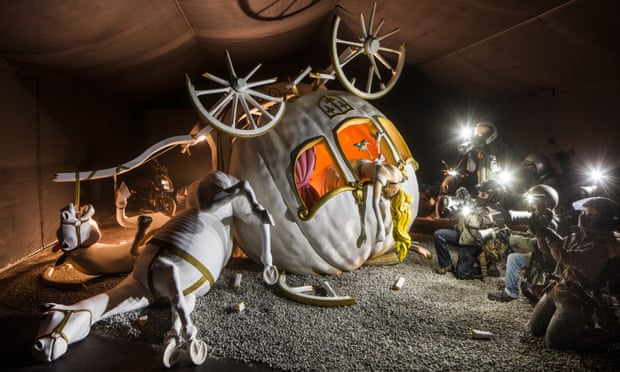 A woman being attacked by seagulls (complete with real seagull wings)
Jimmy Cauty's 'Model Village' or 'The Aftermath Displacement Principle, described as, "vast dystopian cityscape at 1:87 scale depicting a future police state somewhere". No people, just police. This one was only made better by the staff in the room shouting things like, "Move along please. Nothing to see here," and, "You are doing the opposite of moving, which is not moving. Try moving". Only at Dismaland would you happily embrace being spoken to like crap by the staff.
Guerilla Island – probably my favourite part where they basically teach you how to flypost and get political; I particularly liked the workshops in how to hack billboards and even got myself a nice piece of anarchist-poster art to add that homely touch to my abode.
Mike Ross's Big Jig Rig – From his website: 'The work serves both as a sculpture and an architectural space: visitors may enter the lower truck, climb through the tankers, and emerge through a portal at the top'… How cool?!!
Selfie Hole… 'nuff said.
---
 ARTISTS FEATURED AT DISMALAND
---
I was going to give you a good list of them but there are WAAAAY too many, so click here to go to Banksy's Dismaland site and see all the artists featured.

---
MORE PICS
---
---
Check out more work from the artists featured at Dismaland:
Want me to feature your work on my site? Drop me an email with some links to your work and if I connect to what you do I'll happily write a post 🙂
Please contact me at cosmictravellerinfo@gmail.com, or visit the contact page. Alternatively, tag me on your Instagram page – @cosmictraveller_uk